NORDIC OPEN MASTERS
2015 OCTOBER 2-3
TÓRSHAVN – FAROE ISLANDS
 Invite – Version 1 – 2015 February 20
All errors and emissons excepted
Download the Invite as PDF. NOM2015Invite_Ver1
The Faroe Islands Swimming Association have the pleasure to invite you to participate in the Nordic Open Masters in swimming 2015, October 2 and 3 in Tórshavn, Faroe Islands.
Date: 2015 October 2 and 3
Place: Svimjihøllin í Gundadali – Gundadalur 4 – 100 Tórshavn – Faroe Islands
Venue: The competition will take place in a 25m x6m, 6 lanes, depth 1,6 to 1,8m with water temperature at 26,5°C.
The competition pool is equipped with Omega starting blocks and omega timing.
Warm up and down will be possible in the diving pool, 14x14m depth 4,5m. Water temperature 26,5°.
More information about Svimjihøllin í Gundadali can be found here:
http://www.http://svimjihollin.fo/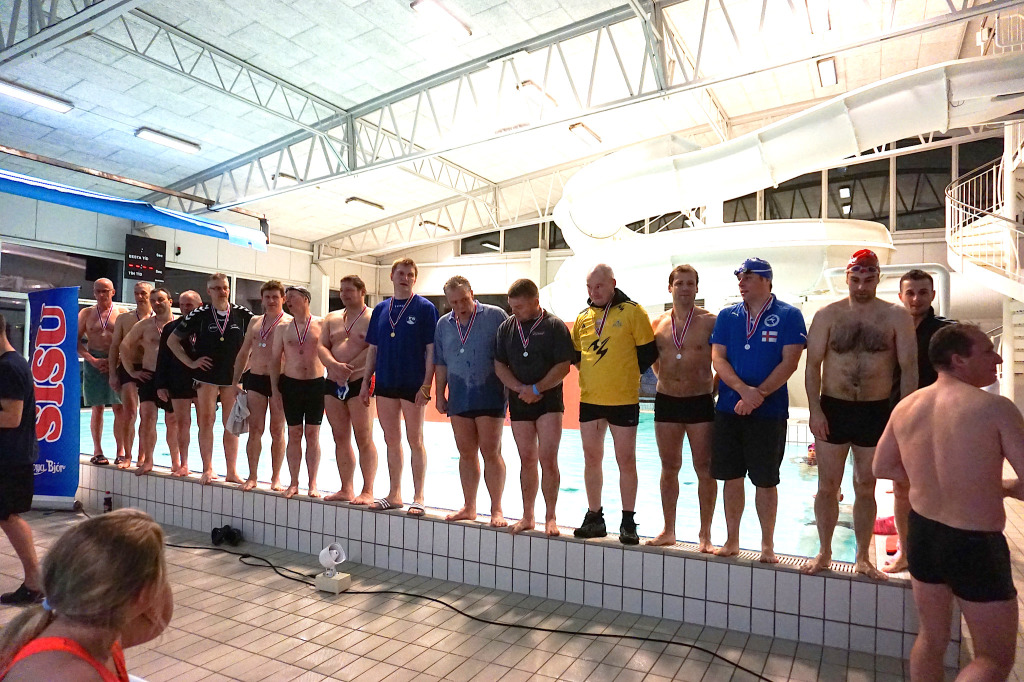 Program
Session 1: 17:30, Friday October 2, 2015
Session 2: 08:30, Saturday October 3, 2015
Session 3: 15:00, Saturday October 3, 2015
Warm up: The facilities will be open for warm up 1.5 hours before time of competition.
Age groups: (individual)
A 25-29 • B 30-34 • C 35-39 • D 40-44 • E 45-49 • F 50-54
G 55-59 • H 60-64 • I 65-69 • J 70-74 • K 75-79 • L 80-84M 85-89 • N 90-94 • O 95-
Please note! There is no age group for pre-masters.
Relay age groups: (sum of the competitor's age)
A 100-119 • B 120-159 • C 160-199 • D 200-239 • E 240-279 • F 280-319 • G 320-
Please note that pre-masters swimmers cannot be used in relays.
Entry: Deadline for registration is September 18.
Entries should be sent to Svimjisamband Føroya, PO Box 1329, FO-110 Tórshavn, Faroe Islands or by e-mail at nom2015@nom2015.org
Entries must be made by Grodan/lenex file, the entry file will be downloadable at the NOM2015 website.
Entries with "no time" will not be accepted.
Only swimmers representing a club, member of a club affiliated with FINA, are eligible to enter.
Registration fee: The registration fee is DKK 75 (approx EUR 10)per start, and DKK 150 (approx EUR 20) per relay start. The Registration fee should be paid at the same time as the entries, and should be paid not later than September 18.
The total amount should preferably be paid with credit card at our website, or transferred to Faroe Islands Swimming Federation account number
Name :       BankNordik
Address :   Postbox 3048
Contry :     Faroe Island
Swift Code :   FIFBFOTX
Iban Number :   Fo8664600009888715
Account Number :   6460 9888715
Account owner: Svimjisamband Føroya (Faroe Islands Swimming Ass.)
If transferring money via bank transfer, please make sure that all bank dues are paid by you.
Late or entry fee will be charged at DKK 230 (aprox €30)/person or relay team/event.
Entry cancellation: Must be made no later than 20:00 Thursday October 1 2015 – regarding events on Friday October 2 2015.
Regarding events on Saturday October 3 cancellation must be made no later than 30 minutes after the session preceding the session the cancellation refers to.
Late or non-cancellations will be charged at DKK 230 (aprox €30)/person or relay team/event.
Relay participants: Name of the relay participants, should be submitted to the competition secretariat no later than one hour prior to the session including the event. If a relay team needs to change age group, it is regarded as a cancellation and a late entry. Late entry fee has to be paid.
Medals will be awarded to the top three swimmers in each event (including relays), regardless of nationality.
Order of events
Session 1,
17:30 Friday October 2
1. 400m free Men
2. 400m free Women
3. 50m fly Men
4. 50m fly Women
5. 100m breast Men
6. 100m breast Women
7. 100m back Men
8. 100m back Women
9. 200m free Men
10. 200m free Women
11. 4 x 50m free Relay Men
12. 4 x 50m free Relay Women

Session 2,
08:30 Saturday October 3
13. 100m free Women
14. 100m free Men
15. 100m fly Women
16. 100m fly Men
17. 50m breast Women
18. 50m breast Men
19. 1500m Men
20. 200m back Women
21. 200m back Men
22. 4 x 50m medley Relay Women
23. 4 x 50m medley Relay Men
Session 3,
15:00 Saturday October 3
24. 4 x 50m Medley Mixed
25. 200m medley Men
26. 200m medley Women
27. 1500m free Women
28. 50m back Men
29. 50m back Women
30. 50m free Men
31. 50m free Women
32. 4x 50m free Mixed

Accomodation
Please book your accomodation at NOM2015 website.
Transport package:
Transportation Package is 600 DKK/Person.
Which includes all internal transport. Pickup at Vagar Airport with transport to your hotel. Internal transport from the official hotels to the pool, and to meals. Transport to Vagar Airport.
The listprice for one person in Airport shuttle is DKK 190,00 each way.
Purchased at the NOM2015 website.
Meals and farewell party:
Meals and farewell party is 550 DKK/Person.
It includes two Buffets, one on Friday after the competition and one Saturday after the morning competition. Also the Farewell party on saturday night. All meals with water and milk. At the Farewell party there will be a deluxe buffet. After dinner at the Farewell party the dance floor will be open! A bar will also be in function, with a variety of bevarges/drinks.
If you only purchase the Farewell party it is 350 DKK/person.
Purchase at the NOM2015 website.
Other Meals:
The organisers are able to arrange other meals for a favorable price for groups of 10 or more, arriving early og departing late. Please write an email to: nom2015@nom2015.org.
Competition web site: www.nom2015.org will keep all information updated. You can follow the competition live on www.livetiming.se
Send all enquiries to: nom2015@nom2015.org
Or contact: Djóni Dalsgarð at +298 607559
Aerial view of Tórshavn, Pool and Hotels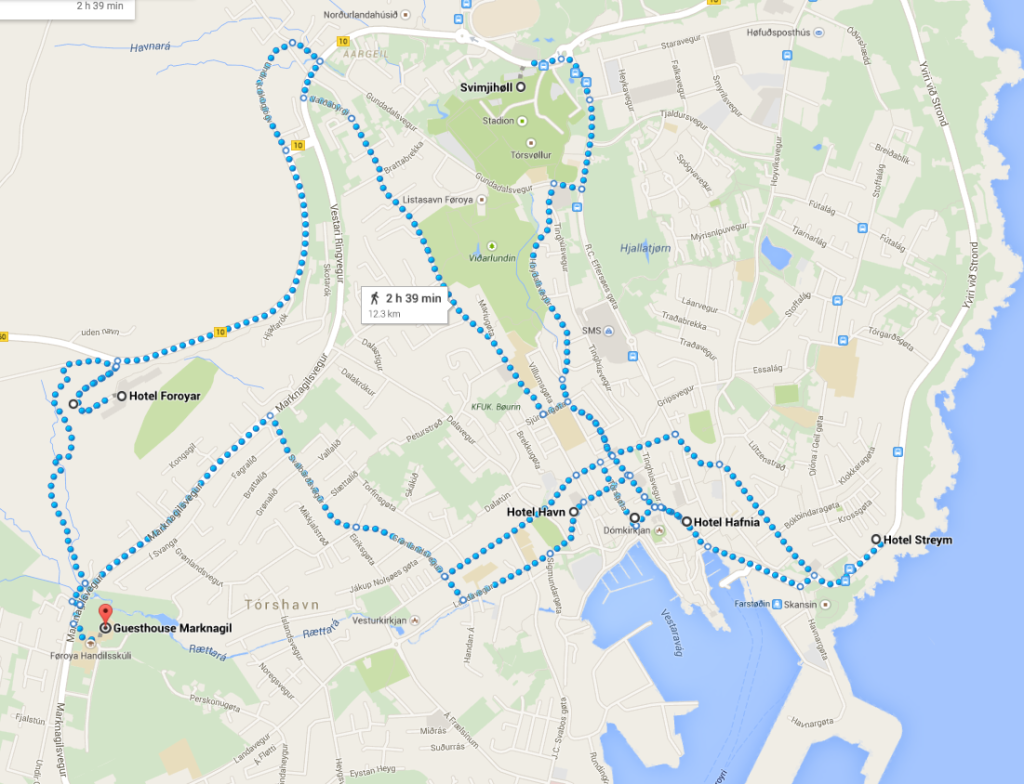 Svimjihøllin í Gundadalur – 25m, 6 lanes, overview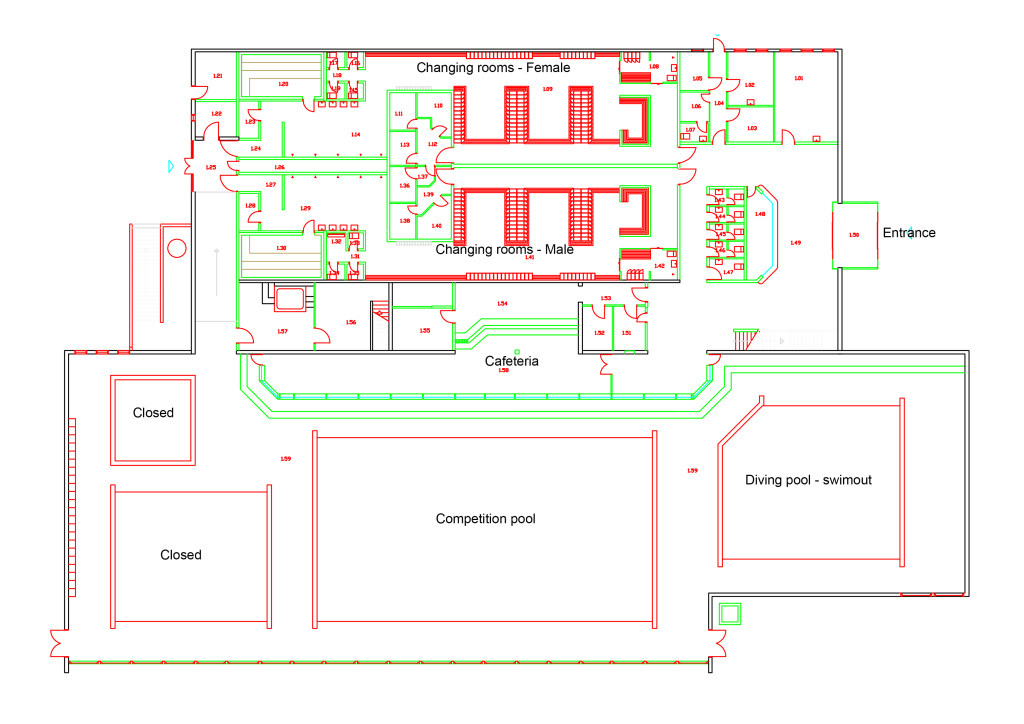 Download the Invite as PDF. NOM2015Invite_Ver1